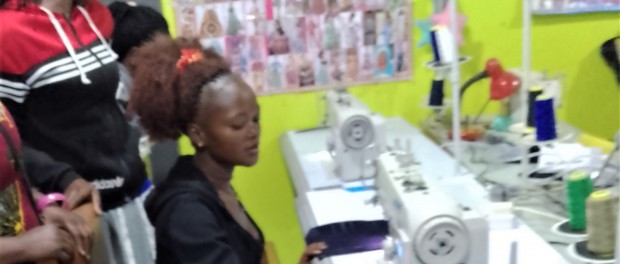 Dear SewAid teachers and friends,
Another year has zoomed by, and due to the continuing restrictions resulting from COVID , we haven't been able to achieve all that we would have liked to. However we were able to keep some of our programs moving along, and we have some interesting plans for 2023.
Goma Congo DMC : In September we shipped eight new Elna sewing machines and two new Janone overlockers to Goma. The sewing machines were for Solidarite Bonne Volonte SBV in Goma, which is a project of Ms Penny Vos a member of our Rotary E-club; and for St Ambrose School, Bulimbo, Kenya- a school supported by Doug Vincent also a member of our E-club. These were kindly shipped by Sonic Healthcare and the  good news is that they have just arrived safely in Goma.
Additionally Penny's manager in Goma  has finally been able to find new premises for their sewing group , so they will now be able to set up the machines and do some sewing. SewAid is funding the rent for these premises for the first 12 months.
Then in July 2023, we are planning to hold a training program  at the School for Life in Uganda, where sewers for Goma and Kenya will attend and be taught a high level of sewing skills.  Only problem at this stage is the Ebola outbreak in Uganda , and if it turns out that it is not safe to send out teachers to Uganda , we may move this program to the School of St Jude in Tanzania.  Sewaid Teachers interested in this project, please keep in touch.
School for Life , Uganda: As reported earlier we were able buy three new industrial sewing machines and one new industrial overlocker for the SewAid workshop at the School for Life ( SFL) . These have been very well received and have greatly improved  the sewing performance at the workshop. Winnie Akol, former manager at the SFL workshop and now owning her own sewing business in Kampala, recently visited the workshop and said she was most impressed by these new Juki machines with the build-in electronic motors. Winne has also offered to help us with the proposed sewing training in July next year.
Sustainable Cambodia: Early in the year we were finally able to get our shipment of fabrics, snaps , rotary cutters and mats etc to SC with the help of Jenny Knight from REECH . Thanks also the Days for Girls group at Ryde who donated some of the fabric. In all 300m of flannelette and 100m of PUL were shipped and this was enough to make some 3,500 Days for Girls Kits.   Fay Kitto  who was one of our original teachers who helped set up the SewAid workshop in SC, is visiting again in February, as is Doug Vincent and his family ( E-club ), and they will kindly carry some new equipment that SC is needing. More details on this shortly.
Kiribati: We are back in regular conversation with Ruth Cross of the Rotary Club of Kiribati, and Erimeta Barako of the National Council of Women in regards our COVID postponed training program. The AMAK women's centre is being renovated and as that is where we had planned to run the training, we may have to wait until at least April/ May, before we could use this centre. Additionally while we shipped them eight new machines originally , we now need to send more plus all the other equipment that we will need, so the next hurdle is to find out how we can ship this. Anyway we are working on it, and hopefully we will be able to run this training program in Kiribati in 2023. SewAid teachers and volunteers that originally indicated that would like to go on this trip, please contact me for up to date information.
Refugee Training: SewAid teacher Rhonda Whitton has just finished a seven week  sewing training  course at the Gold Coast. The course was held at Thriving Multicultural Communities TMC)  in Labrador, and SewAid shipped up six new sewing machines and two new overlockers , fabric and accessories for the program and these will be kept by TMC for future programs. . Many thanks to Rhonda , Joyce Cho the manager of TMC,  the Rotary club of  Griffith Gold Coast and the Rotarians that assisted Rhonda.  Rhonda is expecting to have another course next year.
SewAid teachers Vera Liondas and Tina Lathan are currently working with a group of Ukrainian refuges in Sydney and hopefully we will have another refugee sewing course starting in Sydney in the new year.
New Snaps:  We have recently received samples of a new snap that requires no tool. This is rather revolutionary as it will be no longer necessary to supply those heavy hand presses that we have used in the past. If anyone is interested to learn more about these new snaps, please contact me.
Thanks: Many thanks to our teachers, and volunteers, as well as our financial and operational support from Sewgroup companies, HTL Hong Kong and HobbySew Australia, without your assistance we could not do any of this .
Best Wishes to everyone for Christmas and the New Year.
Tony Castley. Manager tonyc@sewgroup.com 0414 801 888