Shipment to Congo ( DRC )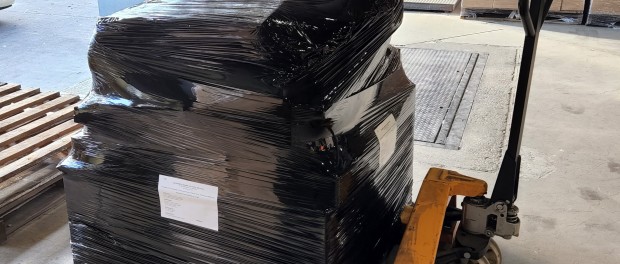 September 1st 2022
Today we packed a pallet of sewing machines and computers bound for Goma in the Democratic Republic of Congo.
The pallet contained 8 new Elna 2000 sewing machines and 2 new Janome overlockers, plus a qty of S/H computers and screens.
The sewing machines are for Solidarite Bonne Volonte SBV in Goma, which is a project of Ms Penny Vos a member of our Rotary E-club; and for St Ambrose School, Bulimbo, Kenya- a school supported by Doug Vincent also a member of our E-club.
The computers were organised by Penny, who  brought them all the way from Cooma where she lives, and the unusual shape of the pallet wrapping is the computer monitors which were a challenge to pack on top of the computers and sewing machines. But we got there. The pallet was then taken to Sonic Healthcare in Macquarie Park who kindly allowed us some room in a container they were shipping to the Heal Africa Hospital in Goma. The shipment to Goma will take approximately 3 months !!
Next year, we are planning a sewing  teacher training program to be held at the "School for Life" in Katuuso Uganda, and two teachers will travel up from Goma and two from Bulimbo Kenya to attend this two week course.
SewAid donated the sewing machines and will also take care of the accommodation, food and all costs for the training program in Uganda.
Many thanks to Penny for all the help with this shipment and to Sonic Healthcare for allowing us some room in their container. Thanks also to Hobbysew who assisted us to prepare the pallet and take it over to Sonic in Macquarie Park.