New Shipments to Projects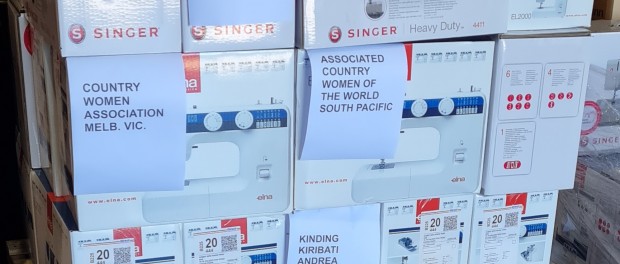 COVID -19 has made aid work in third world countries very difficult  with no opportunity to actually make trips to our projects for more than one year.
However we have stayed in touch with our projects and this month we were able to finally despatch some shipments to them.
Sustainable Cambodia:
Our original shipment which was loaded into the REECH container more than a year ago, never left Sydney due to the inability to obtain  duty free importation into Cambodia.  Jenny Knight of REECH has been working tirelessly on this problem for over a year and has finally found a new agent in Cambodia who can make it happen,
So we had an opportunity to add some extra roles of PUL fabric for Days for Girls kits and finally this container has been shipped. I can barely remember what the original shipment was, although I know it was enough fabric and other parts, to make over 3,600 Days for Girls Kits.- and I recall Ryde Rotary kindly contributed  $620.00  worth of flannelette  to that original shipment. This time Sewaid added another  $900 worth of PUL.
So SC should be very well stocked for DFG kit making when this shipment arrives. Thanks again to Jenny Knight for shipping this for us.
Kiribati 
Again our proposed shipment to our project in Kiribati was delayed dues to DIK ( Donations in Kind ) Melbourne being closed through the COVID period.
However through Wendy Flahive we learned of a United Church container that was going and we were able to ship a pallet of sewing machines  down to catch this container.  Of the 29 new sewing machines shipped, 10 were purchased by Kindling Association – a Kiribati micro loans organisation and another 11 were donated by two CWA divisions.
The remaining  8 new sewing machines were donated by SewAid, these being just the start of our project to develop a new sewing training centre at the AMAK women's Centre in Kiriabti. We hope to ship off another pallet of machines along with everything for the new sewing room  with DIK Melbourne soon.
We are very grateful to Ruth Cross of the Rotary club of Tarawa (Kiribati) who will organise the receipt and distribution of these machines.
So while we still can't visit any of our projects, it is rewarding to be able to get some shipments away to them.
Tony Castley