Sewaid Timor Leste November 2019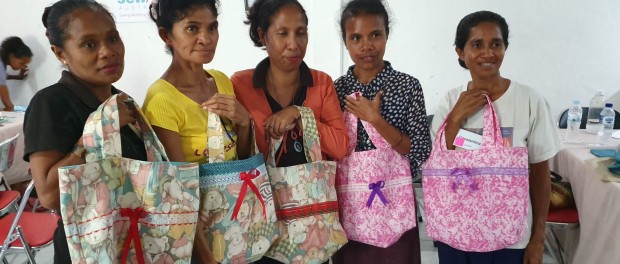 Report on the SewAid program in Timor Leste, Nov.17h to 30th  2019.
Team:   Glenda Bones , Vera Liondas, Sheila McDowall , Gay Grillmeier, Rhonda Whitton , Sandra and Tony Castley.
Students:  Twenty two ladies from these areas/ organisations:
Two from Soibada , nominated by Tamara Sloper-Harding;  four from Oecusse , nominated by Judith Charnaud; four from Dili , nominated by Libby Bleakley; and  six from Viqueque and six from Lacluta, nominated Mira Fonseca.
Machines and Equipment:
We had shipped up previously 8 x Singer 4411 Heaver Duty automatic sewing machines, 5 x Triumph Overlockers, and four good reconditioned second hand machines – two Berninas, one Brother and one Janome. A huge pallet of fabric, sewing accessories and haberdashery was also sent.
Brief Report:
After many months of preparation, we flew into Timor Leste on Sunday 17th and settled into the Timor Lodge near the airport. We had hired a function room at ALFela ( a  women's crisis NGO ) and  Monday morning all our sewing machines, fabrics etc. were delivered there at 8.30am and we arrived soon after in our little hired Microlet.  We took the whole morning to set up and then all our students arrived at 1pm for a briefing- which concluded at 3pm.
Tuesday morning 9am the teaching program began, and when it became clear that only one of the 22 students spoke English, we could see we were in for some challenges. We had arranged for a young man (Amin ) to help us as an interpreter, but we quickly realised we needed more and later Mira and  her daughter Elda helped out.
The students were divided into 4 classes ( 2 x 6 and 2 x 5 ) with one teacher for each class, with Gay looking after the overlocking. There were seven students who had some sewing experience so Rhonda took six of these and other three classes were all beginners, except one person.
When we say beginners, we quickly learned that these ladies had never seen a sewing machine, let alone ever used one. So it was a couple of trying days, teaching these ladies to use the sewing machines and the overlockers. Ironing wasn't much different, as early on the iron was left upside down, and another time melted the plastic frame of the ironing board etc. So we asked, thru the interpreter, who had ever ironed before –  only  4 or 5 out of the 22 had ever used an iron.
However, our wonderful teachers dug in, and it was quite remarkable the attractive bags that were already made by the end of day two.
Every day we arrived at the room at 8.45 for a 9am start and as usual it was hard to get the ladies to break for morning tea or lunch- they were so keen to learn and get on with it. We had paid an organisation $1,500 to supply morning teas and lunch and certainly our teachers were ready for a break!
The teaching continued to Friday of the first week and then Monday to Thursday the second week.
The last Friday morning we packed up all the machines and equipment ready to distribute to the students. And we set up the room for the presentation in the afternoon.  Altogether some 150 or more articles were sewn by the students and these we displayed on four tables.
At 1 pm the ladies arrived and we started the presentations of certificates and equipment. Also some of the students gave testimonials ( in Tetum ) translated for us by Mira. We had several important visitors including David Boyce from Rotary, Judite and Mario from RAT ( Rotarians Assisting Timorese) and we were pleased to have Peter Roberts the Australian Ambassador.
After the presentations we had a party and everyone relaxed and had a good time. Then it was time to say goodbye to all these people we had come to know and love. They packed up all their garments they had made, and along with sewing machines, overlockers, large cutting mats and several bags of haberdashery and accessories, they climbed onto the back of tiny utilities and such like. Some were going home on the bus that same evening- a bus trip that would take 8 hours or more.
So as before, we believe the program was a huge success; certainly, the students thought so. The challenge is always whether they can repeat what they learned when they get home. This time we really emphasised the threading and servicing of the sewing machines and overlockers, and I believe we sent them home more skilled in this area than we have previously.  But as before we will monitor how they go, and we will continue to assist them.
Thank you
I would like to say a special thank you to our teachers who worked tirelessly throughout the two week program and as usual did a fabulous job. Thank you ladies. Also, thanks to Sandra who helped me with much of the managements and acted as treasurer. Thanks to David Boyce of Dili Rotary, and to Amin and Elda our interpreters, and in particular many thanks to Mira Fonseca, who organised most of the pre-trip arrangements for us.
Tony Castley 2/12/2019
Click on any photo and it will enlarge to full screen