Two supply shipments dispatched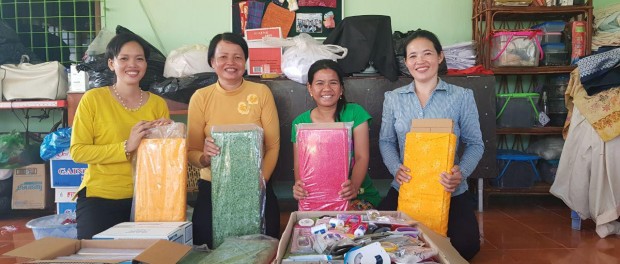 Last week we were able to dispatch supplies to Cambodia and East Timor.
East Timor: We shipped to Mrs Mira Fonseca one of the people we are working with there, a large amount of fabric and supplies through Donations in Kind (DIK) in Melbourne. We thanks DIK Laurie Fisher for his kind assistance with this.
Some of the fabric shipped will be used to make shopping bags for Rotary clubs and in this regards we also shipped and donated a screen printing outfit. We will be very interested to see how this progresses.
Cambodia: We have for sometime been looking for someone to carry a machine and parts to Sustainable Cambodia (SC), and we were pleased to hear from Zac Jefferies of  Bayview college in Victoria that they are sending a team to SC in June and are happy  to carry this new Janome overlocker along with some parts and accessories that our sewing room at SC is in need of.
We send a very large shipment of fabric and accessories to SC last November thanks to the Jenny Knight and REECH. However some of the boxes of fabric and accessories went missing temporally, and so it was great news to hear this week that they had finally arrived in Pursat; and these following photos certainly show how pleased our sewers at SC were to receive them.
Click on these photo for full screen size