Quick Visit to Koroipeta – Fiji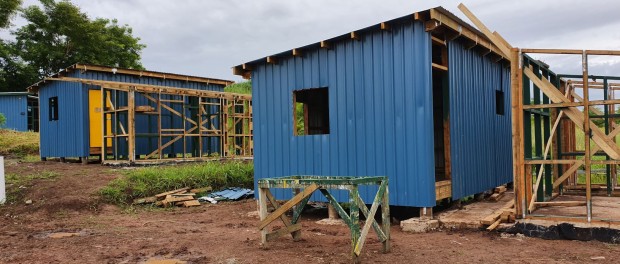 Brief Visit to Koroipeta Fiji.  Saturday 13th 2019
Because of changes in flights by Fiji Airlines, I only ended up with 5 hours in Fiji.  I took a cab to Lautoka where Peter Drysdale had agreed to meet me. We then went out to Koroipeta an visited the sewing workshop where some of the ladies had agreed to come and meet with me. The workshop is now run by a new Enterprise Manager Janet Fung, and I can see that Janet is on the ball and making a difference.
They were sewing their eco bags which looked good- more solid and professional than before , and also they were making an order of Days for Girls Kits.
The workshop was clean and well organised. The machines were clean and looking like they had been well looked after. However at least two of the Singer Traditions were giving trouble and my efforts to fix one were in vain. I will organise Glenn in Lautoka to fix them.
Peter showed me the new Enterprise building which is 75% finished and the sewing room will move into that when it is completed. At that time, I have agreed to supply some new sewing machines, overlockers and up-date their sewing accessories.
Even though it was pouring with rain, Koroipeta was looking magnificent. The orchards, the gardens, the roads and houses etc, all looking very organised. There are 241 houses now and Peter is planning a new section with another 140 houses. I take my hat off to Peter, he has done a marvellous job with this village!
Tony Castley  19/04/2019
Colourful Days for Girls kits in the making.