Report from Solomon Islands Project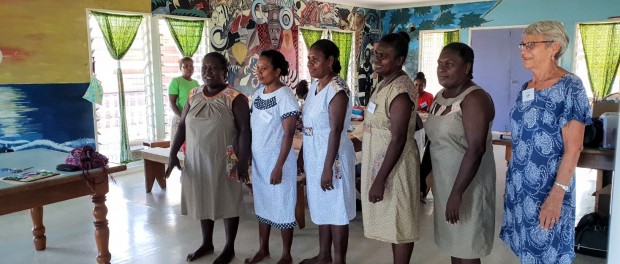 Brief Report for the SewAid Website.
Well we are back from our 2 week project in the Solomon Islands and I can report that everything went extremely well.
The project was in Noro, a small township on New Georgia Island, 25kms from Munda which is the main town on this Island. The project was requested by , and partly funded by Soltuna, a large tuna processing plant which is the only industry in Noro. We planned to teach 30 women to sew and craft, and all the equipment we needed was shipped up to Noro last December.
We shipped:
14 new sewing machines
4 overlockers
Large qtys of fabrics, haberdashery, craft items etc.
In addition we also carried in about 150kgs of extra supplies with us on the plane.
We few into Munda on February 23rd , and we were greeted by Lemu and other Soltuna staff and taken to our accommodation in Noro. Our team of teachers were all pleased with the comfortable and spacious accommodation although no air conditioning and only cold showers did prove to be a bit of challenge at first. The days were extremely hot and muggy and we didn't have air conditioning at the Hostel where we taught each day either.
Sunday we set up all the machines and spread out all the fabrics, haberdashery, craft etc. ready for a 9am start on Monday. We had in the planning requested a maximum of 30 students but on Monday morning about 45 turned up! After some sorting out, we ended up with 36, in the following classes:
7 in the Novice Sewing – taught by Vera Liondas
10 in the Intermediate – taught by Glenda Bones and Lea Palij
5 in the Advanced Sewing – taught by Judy Jones
14 in the Craft , taught by Julie Walsh and Cheryl Nelson
We then taught these students every day from 9am to 4.30pm for the nine days and the progress they made was most rewarding. On the Thursday evening of the 2nd week, some 100 garments adorned the walls, plus a table of craft items which were truly remarkable, all thanks to the fantastic work of our teachers. As always the students were very keen to learn all they could, and it was a struggle to get them to stop for lunch and at the end of the day. I also taught a young man from the engineering department of Soltuna, how to repair and service machines and overlockers and we practiced on some 12 machines which the students brought in- most of them being old hand machines in poor condition.
Thursday night the 7th we had a farewell function and presented them all with their certificates. The students dressed us up in one of their cultural outfits and there was much fun and frivolity. Our students were selected for their low economic situations, but they sure know how to party and have a good time !
Friday was the International Women's Day, and Julie, Glenda and Judy joined the 2km dawn march and yours truly spoke at the celebrations held at the community centre. Saturday for our journey home we had some interesting aircraft changes, ending up flying the Munda Horiana leg in an interesting 16 seater Twin Otter , with fantastic views of the Islands and reefs.
Going forward we are fairly confident in the sustainability of this project. The sewing room will remain established in the Soltuna Hostel, so that when the ladies are off shift they can use this facility to continue their sewing and craft. We have also made arrangements so they will be able to get fabrics and other supplies. Additionally Soltuna will send the young engineer up to check and service the machines every two weeks.
I want to once again sincerely thank our wonderful teachers for their fantastic preparation, and very dedicated teaching. The skills they taught will surely improve the lives and opportunities of the 36 women we taught.
Thanks too to Sandra who helped me with the management and servicing of the machines, as well as being our photographer, and again many thanks to Soltuna's General Manager Jim, Lemu, Gloria, staff at the boarding house, and all the other staff that assisted us.
Regards
Tony Castley
Photos: Here are few of our photos. Sorry they are not sharp, his program seems to only load them if they are very low resolution. Got to look into that !
1. Craft class with their macrame'
2. Fancy bags with the Novice Class
3. Smart dress with the Advanced class
4. Craft Class at work
5. Busy time with the sewing machines
6. TC watching the students on the over-lockers
7. Lea and Glenda with the Intermediate Class
8. Our fabulous teachers, from left Vera,Judy,Lea,Julie,Cheryl and Glenda.
9. Our students on presentation night, with their sewing all on the walls behind!
10. Crazy patchwork from the Craft Class
11. Advance Class skirts and tops