Uganda Container shipped finally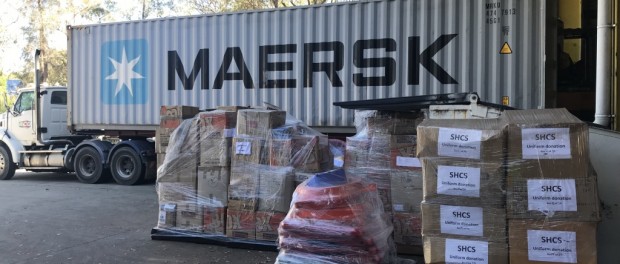 After almost 3 months of preparing and waiting, this week we finally packed and sent off the 40′ container to the School for Life Uganda.
For two months now the 26 pallets of donated goods have sat at our warehouse waiting for the CoC customs approval (Certificate of Conformity). Congratulations to Jessica Ledieu from SFL for her persistence is chasing down this very complicated CoC approval.
This container has a huge variety of goods which will all be of great benefit to the SFL schools in Uganda, such as hospital beds, two generators, 2 photo copiers, wheel barrows, chainsaws, numerous qtys of tools, books, toys, bicycles, and a huge plastic children playground. And for our SewAID workshop at the Katuuso school for Life, we sent six new heavy duty sewing machines, two new overlockers. and two 200mtr rolls of Polypropylene fabric.
Many thanks to our staff at SSS P/L who loaded the container in just 3 hours , and a very special thanks to Panalpina Shipping Agents who have kindly donated the freight for this container to Africa. The container will take about 3 months to reach the schools , it gets transhipped in Singapore and India, and then when it reaches Mombasa in Kenya, it must be transported by truck across Kenya to Uganda.
Thanks also to all the many people who have donated goods, on been involved with the stacking and packing, and it just wonderful to see this container finally get away !
regards Tony Castley