Visit to Cambodia – August 2016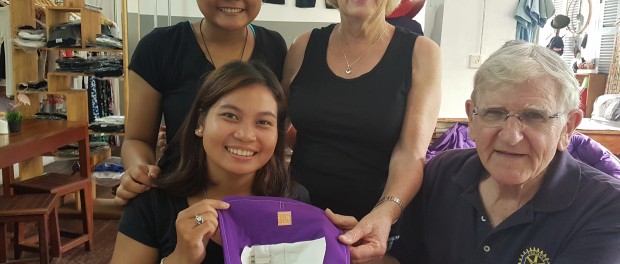 Report from Cambodia August 12- 24 , 2016 Sandra and Tony Castley
We have had a busy time in Cambodia visiting Siem Reap, Pursat and PP. We visited many NGO's and attended three Rotary meetings. We found out a lot about DFG's for Cambodia but still a lot more to learn.
Siem Reap,
Here is a brief report on the NGO's we visited :
Women's Refuge Centre- have 50 kits in stock but at this stage no program in place for distributing DFG kits with the necessary education program, I asked them to seek assistance from Tnaissamrapsrey (TSRS) they will assist them with the DFG education programs.
Tnaisamrapsrey (Days for Girls ); They have one young student volunteer (Nan Hounam) dedicated to the DFG education program. They received 500 kits by DHL once, and paid US$450 in landing fees. They also had to replace all the panties with smaller sizes. Not sure how many kits they currently have in stock, but they could have quite a few. Hounam told us that the girls have trouble riding their bicycles to school with the shield because of the hard snap. I left the big flip chart Celeste gave me with TSRS and they said they would convert it into the Khmer local language.
Build your Future Tomorrow (BFT): Visited their head office and several villages. Good NGO. They are very keen to get supply of kits. I asked TSRS to get in touch with them. Saw a shed with an old lady sewing on a treadle making school uniforms and we gave her one of Deidra's DFG sewing kits. Also saw home projects making large cane baskets which take two days to make and they get paid 75 cents for each basket. The Rotary club of Upper Northern Beaches in Sydney currently has a application for Rotary Grant to assist BFT to develop another village.
Feeding Dreams. A very impressive NGO run by Kerry Huntley an Australian lady, feeding and educating 800 kids a day; and also operating an excellent vocational school teaching hospitality courses. This NGO is supported by my Rotary club- the Rotary E-club of Greater Sydney . They would be interested to receive kits once the full distribution and educational program was available. Also we are working on another Rotary Global Grant for their Vocational Program.
Rotary Club of Seim Reap
We had a long meeting with Sophanit Prim, a member of the Rotary club of Siem Reap. See Rotary report for details.
Sustainable Cambodia – Pursat.
Travelled 5 hours by car to SC. We have been there twice before and not a lot had changed. They told me they had down sized a bit by returning some of their schools to the Government. They now have 7 outreach schools and the one big central school and headquarters in the main street.
Their sewing room has grown is size and they now have 8 hybrid industrial straight stitch sewing machines and one new fully industrial 4 thread high speed overlocker with clutch motor. Still making nice bags and stuff but not finding anywhere to sell it- which is the same problem we find all over Cambodia. Malay the head sewing teacher is a very good sewer – and some of the items they make are well sewn. It is shame we can't find places to sell them- but more on this later in a separate report. We made good progress with the plan to start producing DFG kits at SC after February 2017. We explained to them the full DFG program and left a few sample kits ( both regular and extra flow ) with them along with some templates and flip charts etc. There are two lovely young volunteers there now, Emily from Australia and Cerrie from England who will help them get the DFG program up and going. Then new KM hotel is also a big improvement from the Century Plaza last time.
So we are still on track to send some DFG teachers to SC in February – more about that later.
Rotary Club of Pursat.
We visited their club meeting on the Friday evening. See separate report on Rotary visits.
Phnom Penh
4 ½ hours further by road to PP.
Cambodian Children's Fund. CCF
We went out and spent the morning at CCF with Kimsroeun Hourt and others . CCF is a large organisation – sort of the local World Vison. Kimsroeun surprised us by telling us they had 1,300 DFG kits in stock. but explained that they were planning a distribution programme. They have also produced a video.
We discussed that CCF had experience in importing goods for Aid projects and we met with Rachna Van who handles their imports and he thought it would be no trouble for him to import some fabric for us for DFG , if it ends up we can't find it elsewhere.
PP Rotary Club
Didn't have an opportunity to visit there meeting but spoke on the phone a couple of times with PP Peter Gray about different projects etc.
Other PP contacts
We made several other visits including a visit to the Rotary Club of PP Metro. This is a very active small club doing great works in Cambodia. See separate Rotary report.
PP Markets
Having visited the tourist markets, Russian, Olympic and Central before, I wanted to visit a large local market and so we were sent to the Bamboo Market. OMG! How to describe. Thousands of stalls inside a massive building jammed packed with every conceivable product you could think of. Like products all together in the same areas. The aisles were just one body width wide and our shoulders would be brushing product as we walked thru. The quantity of product is what particularly got me! Say a watch stand, they didn't have a 100 watches, they had more like a 1,000 or more, and then there were 20 watch stands in a row! Every stand was just so thickly laden with stock! There was a large fabric area, heaps of cotton but no PUL or flannelette- anyway these stall holders are retailers and we need to deal with wholesalers or importers. But this market is an experience perhaps not to be missed, not a pleasant experience with the heat, smell and everything in your face, but still an amazing experience!. Next to Divorsia in Manila, this would rate as my second best/worst market experience.
Tony Castley- August 2016