Days for Girls distribution in Manila , Aug 7th 2016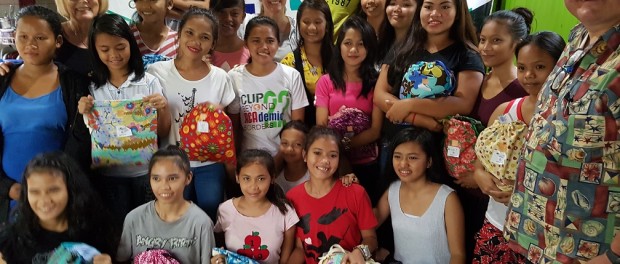 Manila – DFG and Rotary 7/8/ 2016
After spending 5 days in Hong Kong, three of which we spent with Don and Celeste Mergens staying at the Shanri-la Hotel in Kowloon, we flew into Manila on Sunday 7th for a very busy afternoon and evening.
We caught a cab from the airport to the Remington Hotel where we were met by Arlene Amisola, from the Cararoo Foundation. The Cararoo foundation is headed by our friend Maurie Schockman from the Rotary Club of Northlakes Toukley.
Arlene took us to their project at Merville, which is an inner city slum where 450 families live in the most terrible filthy conditions. They live in crude toilet size "houses" made of scavenged materials, in an area what is a mud bowl littered with rubbish. and thru which runs a creek which is more or less an open sewer. We were here some years before and we had expected that the conditions might have improved, but no, they were still the same. Cararoo focusses on educating and helping about sixty of the school aged children and they have built a bamboo community building which acts as a classroom, kitchen and storeroom for their operations.
Today Arlene had arranged for 24 teenage Cararoo girls to attend a Days For Girls program. The program was given by Celeste the founder of DFG, and Celeste quickly captured the girl's enthusiasm and soon they were singing the "happy birthday hands "song and really engaging in the wonderful health and hygiene training. At the end, all the girls were given a Days for Girls kit, which we brought with us. These kits being made by Sandra and a few of the Central Coast DFG ladies.
Part way thru the presentation one of the girls passed out, and we were very concerned for her as she had only a very weak pulse and her body was cold. We gave her some water and she showed a little improvement when a man carried her off to her home. It appeared that no medical help was immediately available in this area on a Sunday. We have now heard she has recovered and is OK. The reason for her passing-out was that she was dehydrated due to lack of clean water available in the village. I asked if they have people die in the village as a result of the lack of water and the answer was – yes, but more die from Typhoid – which as we know is caused by polluted water.
Can you imagine, in a built up city like Manila and just near the airport, people are dying from lack of clean water! We don't know many things as to how these people survive in these shocking living conditions: For example -how do they wash? Someone said they wash in that filthy creek, but that couldn't be possible.
It is very disturbing to visit this slum, and we can only hope that the DFG program and the training that Celeste gave them, will help these girls a little, and we are very thankful for the great work that Maurie , Arlene and the Cararoo Foundation do. Thank you also to Celeste and Don and the other DFG people who assisted with this program.
On a lighter side, there is a story about the last time we visited, when Sandra's good shoes were so destroyed by the mud that she threw them out. So for this visit we did take old shoes – and this time both Sandra and I threw them out after the visit. The black mud and fifth is just so terrible, it would be very difficult to clean and revive our shoes after visiting this slum.
The work of the Cararoo Foundation can be seen on their website: www.cararoo.com.au and any donation to their foundation would greatly assist them with them work.
Report by: PDG Tony Castley