Report on Trip to SewAID Fiji February 2016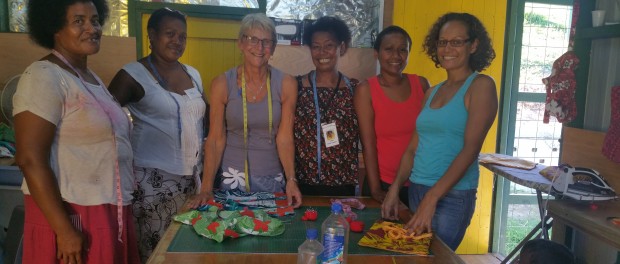 Final report of the SewAID team trip to Fiji in February 2016.
Dates and people
Glenda Bones our head volunteer teacher , Jan31st – February 14th – 15 days;    Judy Jones volunteer teacher Jan 31st – February 6th – 7 days;    Sharon Tunks volunteer teacher – and partner Max , Feb 5th-February 13th -6 days;     Sandra and Tony Castley – February 4th – Feb 13th 9 days
Accommodation:
Glenda, Judy, Sharon and Max all stayed at the home of Linda Peterson  who kindly lent them her home as she is stationed in Suva at present. Linda works for Cardno International as their Social Responsibility Manager in charge of 14 Pacific Island countries.
TC and SC stayed at the Tanoa Waterfront hotel except for 3 nights in Suva – 2 nights at the Grand Pacific Hotel ( beautiful ) and one night at the Shangri-la resort (not so good).
Sewaid workshop at Model Homes Koroipita
We established this workshop by training 25 women to sew back in August 2015 and this initial training was held in the main hall. Since then, the sewing machines and overlockers etc. which we originally brought with us, have been well set up in two separate Rota Homes nearby to the hall , with a bench around the walls for the sewing machines and a good operational table in the centre, plus good lights and power-points. This is a very good set up for sewing, the only problem we found was the extreme heat at the time and no air conditioning. One room had two small fans.
Students
Of the 25 we originally taught, but only 10 sewers were available for the us to work with this time. And we believe only 4 have been attending the workshop on a regular basis. Of the 10 ladies we worked with this time, only one was what we would call a really good sewer. So as a result, the products being sewn were just Eco Bags and Days for Girls Kits rather than the more advanced clothing more familiar with our SewAID workshops. So obviously we had more development work to do here.
Sewing Skills
When we left in August the bulk of the ladies were sewing reasonably advanced clothes, skirts, dresses, shirts etc, and this trip was to further increase their skills to make high quality clothing and accessories. But now there was only one sewer with these skills so initially it was a matter of teaching basic sewing skills again. Our teachers taught them how to make the Eco bags better and faster and they also taught them how to make the Days For Girls kits. The 4 regular ladies had already started on the Rotary order for Days for Girls Kits, however while our teachers were there, a lot more DFG kits were made, in fact a total of 80 were completed.
Sewing machines and overlockers
The machines appear to have been well looked after. The 20 new Singer machines we brought over in August were all still sewing well- no trouble. However the 5 second hand overlockers we originally bought over were not so good. One Janome 204D had a broken knife which I replaced, another Janome 303 had a motor completed stopped working and another Elna 34D had a very noisy motor which appeared to be one the way out. I called into Elizabeth Sewing Machines and met and talked with the owner Glenn and mechanic Mitish. Hours were sent trying to fit new motors to the overlockers but without success as there were small differences. Mitish then pulled the Elna motor apart and fixed it. He put it all back together and adjusted it and it overlocked beautifully. So I left the Janome 204 with him and he said he would have go at fixing that one too. Glenn changed me just $50 for 5 hours work, which was very generous and much appreciated.  Peter will pick up the Janome when ready and tell me how much I owe him. So currently 4 working overlockers at the workshop and back to five when this last Janome is fixed.
Days for Girls Project
My Rotary club, the E-club of Greater Sydney, had been trying to organise a DFG project with the RC of Lautoka. However the RC of Lautoko club is very low on members. Akisi the President had resigned and Peter told us the club was not very functional at the moment. Then by accident we ran into the Losaline Qiolevu the secretary of a newly formed Rotaract club, and quickly we were able to re-start the project with the Rotaract club. We had several meetings with the Rotaractors, Secretary Losalini, President Melissa and Fund Raising Chair Luke , and they quickly got in touch with Jasper Girls High, and also contacted the Ministry of Education and obtained written approval to run the DFG project at the school. It was decided to roll-out the DFG program to the boarders at the school, which were approximately 250 girls.
Days For Girls Kits
We ordered 250 kits off Model Homes in three lots of 80, 80 and 90 and our teachers started to show the workshop sewers how to speed up and apply production line techniques. On the final Friday we delivered 80 kits to the Models Homes office. It is expected that all 250 might be finished in about 3 weeks.
Materials for DFG kits
A lot of work was done in trying to find cheaper and better fabrics for the kits. The main need was for good quality 100% cotton which in the retail fabric shops  was expensive. Fortunately due to the great research work Sharon did, we were able to eventually find all fabrics  (except the PUL) at very good prices .
ECO Bags
The sewers are also making Eco bags made from off-cuts received from the local garment factories.
Sewing Room Manager
Much discussion was held regarding the need for a sewing room manager such as we have in other Sewaid workshops. There were a number of possibilities discussed, such as a graduate or undergraduate from the School of Fashion at the University, and we even cam across ladies living in the Koroipita village with sewing management experience. This information was left with the Koroipita Model Homes management.
Marketing and potential orders
This was possibly the biggest surprise of all, the amount of work that is available for the sewing room. It appears that Fiji has a lot of work for sewers. Some contacts were made with companies wanting garments made by  home sewers , and this information again was passed onto the Koroipita management.
We also began some incredibly interesting discussions with Linda Peterson regarding Days for Girls kits for 14 Pacific countries, but this is something we will be investigating more fully .
The cruise ships also run day tours to Koroipita but the time is very short however the visitors are very keen to buy and bought $170 worth in just a few minutes. But there are  some complications with  this , but Peter is going to look into it further.
It would therefore seem that there is plenty of work and a good manager would be cost effective. All in all this is so different to other countries where we have to work so hard to find sales outlets for the goods that are sewn.
Summary:
It wasn't the two weeks of advanced training we had planned, but our teachers worked very hard to improve the skills of the ladies that are working in the sewing room now. We are sorry to see many of our best sewers have left, but we hope that some of these may return as the workshop takes on new jobs.
We do hope that the sewing workshop will now grow and prosper but this may be slow until such time that  a suitable manager can be employed.
We are very pleased that the Days for Girls program is going to get rolled out to the boarders at the Jasper Girls High School and we loved meeting the young Rotaractors who are so enthusiastic and energetic.
Thankyou
Many thanks to Glenda who organised this whole visit and stayed 15 days. To Glenda Judy and Sharon and Max who all came at their own cost and worked so hard, in what was very very hot conditions, thank you so much- you are very special people.
We again thank Peter ,Susan and Vika at Model Homes for their help and assistance and wish them all the best for the future development of the Koroipita SewAid workshop.
Tony Castley 13/02/2016