Teachers for a small SewAID program in Cambodia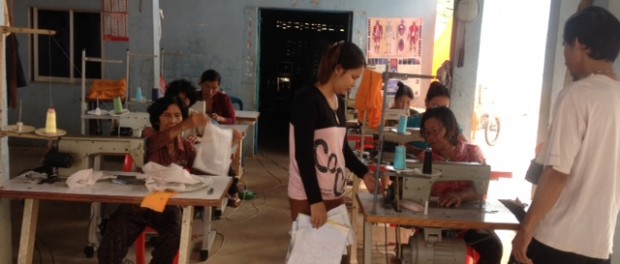 We have the opportunity to send a small team of teachers to Tom Village in Southern Cambodia, 120 Kms South of Phnom Phenh
An Australia lady Sylvia Jarman has been helping this small village improve their opportunities by helping them build a sewing room and fit it out with 6 industrial sewing machines. However the ladies in the village don't know how to sew, and so Sewaid has been asked can we help.
This project will not be a normal major Sewaid program where we establish a Sewaid workshop to manufacture our saleable products, mainly because we have been to Cambodia on two previous  trips and found that it is very hard to sell  our clothing, bags, accessories etc in Cambodia, due the flood of this type of product already in all the markets selling at prices almost the cost of the fabric. However this little village believes it can find some local business and so all that Sewaid is considering here is to teach the ladies to sew !
So far we are only looking at this as a possible project for SewAID  and we still have to check with the Rotary club of Phenom Pehn to ask them would they  assist us with this, but initially we are asking are there any of our registered Sewaid Volunteeer teachers that would like to spend a week to ten days in this small very basic village and teach these ladies to sew. We would send over an overlocker or two and all the accessories etc.
On the same trip teachers might also like to travel up to the Pursat in central Cambodia and visit Sustainable Cambodia, a wonderful Rotary run set of schools and community programs including a sewing room. We have looked at trying to make this a Sewaid workshop a couple of times, but not all the criteria was there, but it is worth investigating again and they would be certainly happy to welcome some of teachers for say a 2 or 3 day stop over. There is now good 3 star accommodation hotels there – not like the one star we stayed at when we were there !
If you are interested in this Cambodian project, please get in touch with me  Tony  0414801888 or Glenda.  0412362255
Regards Tony Castley